Manaslu Expedition - 49 Days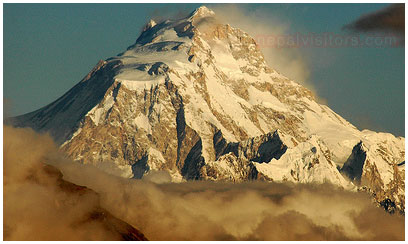 Mt Manaslu, the eighth highest mountain in the world, is located 40 miles east of Mt. Annapurna in Nepal. The long ridges and valley glaciers of the mountain offer feasible approaches for climbing from all directions. The south face route of this mountain is arguably the toughest in climbing history. Many consider the three peaks of Manaslu as Japanese peaks as they were first ascended successfully by Japanese expedition team in 1956. Climbing Mt. Manaslu is technically very difficult and the mountaineers must have alpine climbing experience above 6000m and mountaineering techniques.
Itineraries
Day 01: Arrival in Kathmandu (1350m) & transfer to hotel.
Day 02: Briefing in Ministry of Tourism
Day 03: Preparation day for expedition. Stay overnight at hotel in Kathmandu
Day 04: Drive to Arughat Bazaar - porter arrangements
Day 05: Trek to Khanchok (950m)
Day 06: Trek to Khursanibari
Day 07: Trek to Macha Khola (1300m)
Day 08: Trek to Jagat (1350m)
Day 09: Trek to Nyak (2300m)
Day 10: Trek to Prok
Day 11: Trek to Namrung (2550m)
Day 12: Acclimatisation day
Day 13: Trek to Lho (3150m)
Day 14: Trek to Samagaon (3708m)
Day 15: Trek to Manaslu Base Camp (4700m)
Day 16-39: Climbing Period
Day 40: Clean up Base Camp
Day 41: Trek to Samagaon
Day 42: Trek to Nyak
Day 43: Trek to Jagat
Day 44: Trek to Macha Khola
Day 45: Trek to Arkhet
Day 46: Trek to Arughat Bazaar
Day 47: Drive to Kathmandu
Day 48: Rest day in Kathmandu
Day 49: Transfer to airport to connect departure flight for onward journey

Other Details
Service Includes:
All land transportation as per itinerary
Hotel Accommodation in Kathmandu
Meals and accommodation during trekking and mountaineering
TIMS card & Manaslu Conservation Area Permit
Mountaineering guide, supporting Sherpas and porters.
Evacuation service in case of emergency
Insurance for Nepali Mountaineering crew
Equipment allowance, daily allowance for Liaison officer, expedition crew
Farewell dinner with cultural dance
Service Excludes:
Expedition Fee
Personal equipment for climbing & trekking
Personal & medical Insurance of expedition
Climbing food, Gas & stove above Base camp.
Lunch & dinner in Kathmandu.
Emergency Rescue evacuation by helicopter in case of emergency
Walki Talkie permit & Satellite phone (pay by calls)
Oxygen & Mask –regulator
Personal Insurance
Personal expenses
Bar Bills & beverage
Garbage Deposit USD 3000.00 (Sharing basis) and Deposit fee will be not refunded unless clients (climbers) take back their garbage to Kathmandu.
Tips for all expedition crew.