Makalu Expedition - 55 Days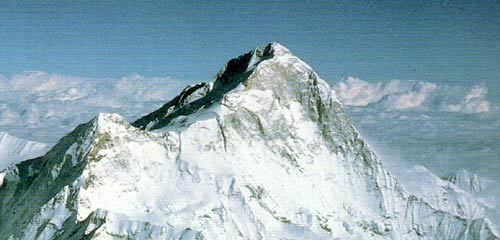 Mt. Makalu (8,463 m) the 5th highest peak in the world, lies between Mt .Everest and Mt. Kanchenjunga. This mountain looks like a pyramid with four sharp ridges from a distance. It is extremely difficult to climb and summit the peak. The normal route to climb Mt. Amadablam is from its south west ridge. Till date hardly 200 mountaineers have successfully stood on the summit. There are several routes accessible but the safest and less challenging route is through the beautiful Barun valley to Makalu Base Camp at an altitude of 4,825m. We begin climbing from the Base of west face towards the hanging ice- fall at 6,100 m to the right part of Ice fall until we reach the west ridge at 8,000 m. for the final summit.
Itineraries
Day 01: Arrival in Kathmandu (1350m) & transfer to hotel.
Day 02: Briefing in Ministry of Tourism
Day 03: Preparation day for expedition. Stay overnight at hotel in Kathmandu
Day 04: Fly Kathmandu to Tumlingtar & trek to Khandbari 1040 m
Day 05: Trek to Chichira 1750 m
Day 06: Trek to Num 1560 m
Day 07: Trek to Sedua 1500 m
Day 08: Trek to Tashi Gaon 2100 m
Day 09: Trek to Kauma 3470 m
Day 10: Trek to Mumbuk 3520 m
Day 11: Trek to Nhe Kharka 4320 m
Day 12: Trek to Merek 4100 m
Day 13: Trek to Sherson 4615 m
Day 14: Makalu Base Camp 4870 m
Day15-44: Climbing Period- Mt. Makalu
Day 45: Trek to Merek 4100 m
Day 46: Trek to Mumbuk 3520 m
Day 47: Trek to Kauma 3470 m
Day 48: Trek to Tashi Gaon 2100m
Day 49: Trek to Sedua 1500 m
Day 50: Trek to Num 1490 m
Day 51: Trek to Chichira 1560 m
Day 52: Trek to Khandbari 1040 m
Day 53: Trek to Tumlingtar and fly to Kathmandu 1340 m
Day 54: Free day in Kathmandu 1340 m
Day 55: Transfer to airport to connect departure flight for onward journey
Other Details
Service Includes:
All land transportation as per itinerary
Flight Kathmandu-Tumlingtar-Kathmandu
Hotel Accommodation in Kathmandu
Meals and accommodation during trekking and mountaineering
TIMS card & Makalu Barun Conservation Area Permit
Mountaineering guide,supporting Sherpas and porters.
Evacuation service in case of emergency
Insurance for Nepali Mountaineering crew
Equipment allowance, daily allowance for Liaison officer, expedition crew
Farewell dinner with cultural dance
Service Excludes:
Expedition Fee
Personal equipment for climbing & trekking
Personal & medical Insurance of expedition
Climbing food, Gas & stove above Base camp.
Lunch & dinner in Kathmandu.
Emergency Rescue evacuation by helicopter in case of emergency
Walki Talkie permit & Satellite phone (pay by calls)
Oxygen & Mask –regulator
Personal Insurance
Personal expenses
Bar Bills & beverage
Garbage Deposit USD 3000.00 (Sharing basis) and Deposit fee will be not refunded if the clients (climber) don't take back their garbage to Kathmandu.
Tips for all expedition crew.
Note: Please email us for the expedition cost and expedition booking form. We will provide the appropriate cost as per the group size and service requirement